The Paragon Circular Geometry Inspection system
THIS PRODUCT HAS BEEN WITHDRAWN FROM SALE DUE TO THE CURRENT INSTABILITY
IN US TRADE REGULATIONS
Paragon was originally designed at the request of the General Electric Company's Greenville Gas Turbine Division for the measurement of
rotor components in order to produce optimized stacking. From the outset Paragon was designed to out-perform all other CGI systems in terms
of accuracy, user-friendliness, and suitability for a shop floor environment.
Turbine Metrology's latest version of the system, incorporates advanced hardware to take measurement accuracy
to a new level, a new touch-screen GUI, and additional software features to keep Paragon well ahead of the competition in terms of
accuracy, reliability, ease of use, and price.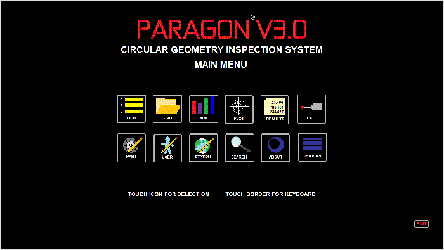 Touch screen interface, Paragon V3.0, V3.24
Paragon systems are built from advanced data acquisition hardware and feature true 16 bit analog-to-digital conversion capable of sampling all data
channels simultaneously at a rate of 153,600 readings per channel per second. This rate allows the use of sophisticated anti-aliasing filters and digital
signal processing techiniques. Paragon is designed from the ground up to be utilized in a shop floor environment; accurate, meaningful data can be obtained
in high ambient noise, high vibration areas and in close proximity to machining centers.
TM's Paragon system has set the modern standard for data collection by making over one half million readings to characterize 3600 points
on each surface of each part -- collecting over a thousand times more data than similar systems. Rock solid, statistically relevant data is
delivered to the mathematical algorithms in a steady stream, without gaps from operating system interrupts and free of anomalous values
which can bias the data. No eight or twelve point method can even approximate this level of accuracy.
Please Note: Support for Paragon V2.0 and earlier ended 31 DEC 2012.
"Paragon" is a registered trademark of Turbine Metrology LLC. All rights reserved.